Simple Ping v.1.0.3
Windows 2000, XP, 2003, Vista, 7, 2008, 8
(Please Note: If your anti virus says it found a virus of any kind please know this is a false alarm. You can use www.virustotal.com to also see what other antivirus software says.
There are no viruses in any of the programs on this site. If your anti virus says it has one please submit the file in question to your anti virus maker, they will then scan the file themselves, see the program or setup is clean and update there virus def's to not cause the false alarm.)
This program is 100% FREE

Majorgeeks.com (Primary Download)
(More download options at the bottom of the page)

Simple Ping is a small program to help keep an eye on your current internet ping.
I made this program because I have a wireless internet provider. My ping times like to go all over the place. Well while playing a online game, I would lag every now and then. The game itself had no way to show me my ping. So I decided to make a program that could tell me :-)
Let me give a few examples of people who would find this program helpful.
Example #1:
I have a dual monitor setup. While playing Call of Duty Modern Warfare 2 the game never shows me what my ping is. It just shows a little bar. So when my ping is bad i have no way to tell just how bad it is. So now I have Simple Ping running on my 2nd monitor. Now as I play I can keep an eye on my ping at all times.
Example #2:
While playing on the net with your Wii, PS3 or Xbox you may need to keep an eye on your ping. You can have this tool running on your computer while you game. Some users have their computers or laptops close by. When the game starts to lag you can keep an eye on the ping.
Example #3:
While online you notice some pages are loading slow, you have other people in the house using the net as well. You see the ping is rather bad. You realize someone else is tapping the net to its fullest. You go check and find your brother/sister/mother/father/kids ect. are downloading a huge movie off Netflix or something. Since the net is being fully used up the net goes slow for you. You promptly beat them with your shoe and tell them to get off.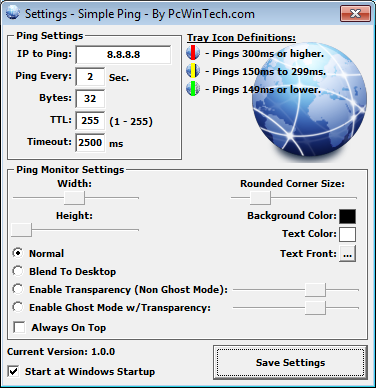 In the settings window you have a lot of options to control the look and feel of the ping monitor. These settings are pretty much self explanatory.
Have a request or problem? Drop a line in the forums.
-Shane

Majorgeeks.com (Primary Download)


Mirror 1 (Direct Download)



Zip File (Non Setup) Portable Version (Direct Download)
Setup File Info: (1.91 MB) (MD5 Hash - BF051FE9B729A79F6BBDE0C33223D70D)

What is MD5 hash? MD5 hash is a code made from every byte of the file, if the file is different in any way the md5 hash will change.
(HashTab is a great easy tool to use to check the md5 hash of files)